Click on the topic you want to learn more about, alternatively scroll down the page.
Dashboard Home Screen #
The home screen displays up-to-date information about your system usage.
Home screen information includes:
Last three user logins – name, email, date, and time.
Most recent surveys – most recent survey templates created.
Job Summary – pie chart showing the proportion of reports made, submitted and assigned.
Logging Out #
Click the person icon (found top right on every main screen). As a result of this several options will be shown to you.

Click on the Logout Option. Logging out happens immediately.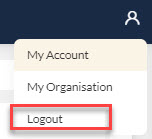 Other Options:
Clicking on My Account opens the My Account screen.
Clicking on My Organisation opens the My Organisation screen.